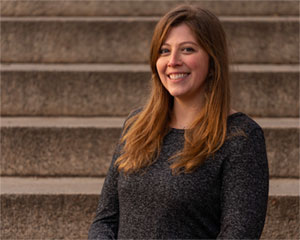 Dr. Johanna (Ryan) Russell, DPT
---
Dr. Johanna Russell, PT, DPT is a licensed physical therapist and owner of Refresh Physical Therapy. Dr. Russell graduated from St. Lawrence University in 2009 with a degree in Biology. She then graduated from Sacred Heart University with a Doctor of Physical Therapy Degree in 2013. Dr. Russell has held past positions as clinic director, collegiate student athletic trainer and has expanded her credentials as a certified mat-based Pilates Physical Therapy instructor by the Australian Physiotherapy & Pilates Institute, certified Functional Movement Technique RockTape professional, and through specialty courses in running form and analysis.

Dr. Russell's interest in patient treatment originated from her own rehabilitation experience. As a junior in high school, Johanna suffered a traumatic elbow fracture while playing softball, resulting in two reconstructive surgeries and a year of physical therapy. Dr. Russell's rehabilitation led her to a career helping others prevent, heal and recover from their injuries. Her experience shaped her empathetic and individualized treatment approach.

Dr. Russell specializes in the treatment of orthopedic and sports related injuries ranging all abilities, ages and degrees of injury, from preventative treatment to postoperative care to chronic injuries. Refresh PT provides specialized recovery programs for neck pain, ACL reconstruction rehabilitation, rotator cuff tendinopathy, hip pain, plantar fasciitis, low back pain, IT Band Syndrome, Runner's knee, and all other orthopedic conditions. With eight years of experience, Dr. Russell has worked as a clinic director and physical therapist for patients ages 8 to 87. She works with each patient to set personalized, specific and attainable rehabilitation goals.

A fitness enthusiast, Dr. Russell enjoys drawing from her own workout routine, working in a mix of spin, boxing, Pilates, cross-training, dance and yoga classes. She is an avid Peloton user and loves to utilize many methods of strengthening and cardio to stay active. Dr. Russell's personal routine provides expanded insight on necessary functional movement and proper form. As the owner of Refresh Physical Therapy, Dr. Russell hopes to help her patients understand injury causes and prevention through multiple teaching techniques and the use of functional exercise to aid in healing and prevention of future injuries. She believes in treating the patient as a whole, with a significant focus on movement and posture to create good habits with proper retraining.